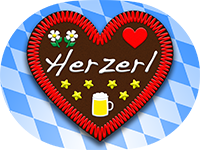 GINGERBREAD HEARTS BAVARIAN STYLE
Send sugar sweet heart stickers to your friends and family directly from within iMessage!
The slogans on these 54 heart stickers are mainly in bavarian dialect, as you can see them at funfairs and beerfests in bavaria and at one of the biggest beerfests in the world – the Wiesn in Munich, also known as the Oktoberfest. If you don't understand the meaning of the stickers slogans, you'll find a translation below.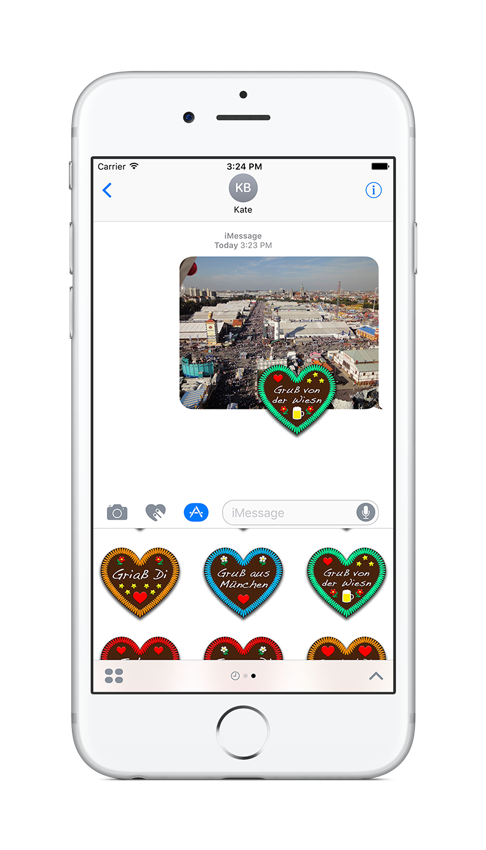 slogan
Auer Dult 2022

Bazi

Bussi

Danke

Deutschland

Du bist der Wahnsinn

Du bist bist ois für mi

Du bist siass

fescher Bua

fesches Dirndl

fesches Madl

Frühlingsfest 2022

Für Di

Griaß Di

Gruß aus München

Gruß vom Frühlingsfest

Gruß vom Oktoberfest

Gruß von der Dult

Gruß von der Wiesn

Happy Valentine's Day

I ♥ U

I ♥ Bayern

I ♥ Di

I ♥ GER

I ♥ München

I ♥ Oktoberfest

I like Oktoberfest

I love you

I mog Di

I schenk Dir mei Herz

I steh auf Di

Ich liebe Dich

Kini

kloana Lauser

Mausi

Mei Herzerl

Mein Held

Oans, zwoa, drei, gsuffa!

Oktoberfest 2022

Oktoberfest München

O' zapft is!

Prinz

Prinzessin

Prost

Schatzi

scheena Valentinsdog

Servus

Spatzl

Tooor

Traumfrau

Wiesn 2022

Wiesn-Azubi

Wiesn-Azubine

Wiesn-Kenner
deutsch
Auer Dult 2022

Bengel

Kuss

Danke

Deutschland

Du bist der Wahnsinn

Du bist alles für mich

Du bist süß

hübscher Junge

hübsches Mädchen / Dirndlkleid

hübsches Mädchen

Frühlingsfest 2022

Für Dich

Grüß Dich

Gruß aus München

Gruß vom Frühlingsfest

Gruß vom Oktoberfest

Gruß von der Dult

Gruß von der Wiesn

schönen Valentinstag

I ♥ U

I ♥ Bayern

I ♥ Dich

I ♥ GER

I ♥ München

I ♥ Oktoberfest

Ich mag das Oktoberfest

Ich liebe Dich

Ich mag Dich

Ich schenke Dir mein Herz

Ich stehe auf Dich

Ich liebe Dich

König

kleiner Bengel

Mausi

Mein Herzchen

Mein Held

Eins, zwei, drei, getrunken!

Oktoberfest 2022

Oktoberfest München

Es ist angezapft!

Prinz

Prinzessin

Prost

Schatzi

schönen Valentinstag

Servus

Schatzi

Tooor

Traumfrau

Wiesn 2022

Wiesn-Azubi

Wiesn-Azubine

Wiesn-Kenner
english
Auer Dult 2022

Scallywag

Kiss

Thank you

Germany

You're amazing

You mean everything to me

You're sweet

pretty boy

pretty girl / dirndl (dress)

pretty girl

Frühlingsfest 2022

For you

Hi / Hello

Greetings from Munich

Greetings from the Frühlingsfest

Greetings from the Oktoberfest

Greetings from the Dult

Greetings from the Wiesn

Happy Valentine's Day

I ♥ U

I ♥ Bavaria

I ♥ you

I ♥ Germany

I ♥ Munich

I ♥ Oktoberfest

I like Oktoberfest

I love you

I like you

I'll give you my heart

I'm mad about you / I fancy you

I love you

King

little scallywag

Nickname love

My Heart

My Hero

Toast (one, two, three, drunk!)

Oktoberfest 2022

Oktoberfest Munich

The keg is tapped!

Prince

Princess

Cheers

Sweetie / Sweetheart

Happy Valentine's Day

Hello / Goodbye

Sweetie / Sweetheart

Goooal

Dream girl

Wiesn 2022

Wiesn trainee

Wiesn trainee (fictitious female version)

Wiesn expert
Hinweise zur Verarbeitung Ihrer Angaben und Widerspruchsrechte finden Sie in unserer Datenschutzerklärung